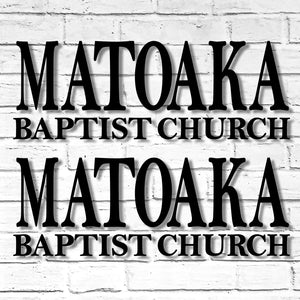 Custom Order - 2 sets of letters spelling MATOAKA BAPTIST CHUCH - letters - unfinished - ready to weld
Details
Custom Order - 2 sets of letters spelling MATOAKA BAPTIST CHUCH - letters - unfinished letters ready to weld.
Tall letters measure 22.5" tall and smaller letters measure 7" tall.
All letters hung together (as shown in main image) measure 7.5 feet wide x 2.7 feet tall, sized to be weld to a piece of metal measuring 8 feet wide x 4 feet tall.
~~~~~~~~~~~~~~~~~~~~~~~~~
Many other items signs, symbols, words and maps available in my collections!
I cut this wall art from very durable 1/8" thick steel.  Each sign is "
made
to order" making it a unique item.  No two are exactly the same.
Looks great hanging on your wall or outdoors on a fence.
I've sold several thousand metal wall art pieces online over the years, so you can buy with confidence. This is my livelihood :)
Thanks you for viewing my work! Chris