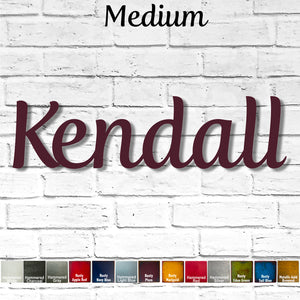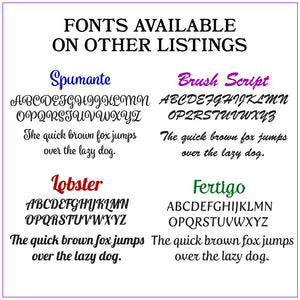 Custom Name or Word - FERTIGO Font - MEDIUM Size - Metal Wall Art Home Decor - Choose your Patina Color - Free Ship
Details
Custom Name or Word
Metal Wall Art Home Decor - Handmade - Fertigo Font - Medium Size
~~~~~~~~~~~~~~~~~~~~~~~~~
Measurements:
   Medium size names have a capital letter measuring 8.3" tall.
The small lower case letters are 6" tall.
The width of the name depends on the amount of letters:
2-5 letter names are 13" to 24" wide.
6-9 letter names are 24" to 40" wide.
10-12 letter name are 38" to 54" wide.
Names/Words over 45" wide will hang in two separate pieces.
~~~~~~~~~~~~~~~~~~~~~~~~~
When Ordering:

Choose your Size and Patina Color.
Leave the name you would like as
Special Instructions to seller
during checkout.
The color palette with
33 colors
is shown in the second photo.
We have more finishes in addition to the 33 colors offered on this listing.
Leave Special Instructions to Seller with color choice. 
~~~~~~~~~~~~~~~~~~~~~~~~~
Finish:
Has a high quality commercial grade clear coat sealer.
Suitable for indoor and outdoor use.
~~~~~~~~~~~~~~~~~~~~~~~~~
Hanging:
   Stand offs serve as hanging brackets and keep it 3/4" from your wall to create a unique look with cool shadows.
   Simply hang using two small nails at the top two 3/4" stand offs which are level.
~~~~~~~~~~~~~~~~~~~~~~~~~
There are other fonts and sizes for name available in my collection.
I cut this wall clock from very durable 1/8" thick steel.  Each sign is "
made
to order" making it a unique item.  No two are exactly the same.
Looks great hanging on your wall or outdoors on a fence.
I've sold several thousand metal wall art pieces online over the years, so you can buy with confidence. This is my livelihood :)
Many other signs, symbols, words and maps available in my collections.
Thanks you for viewing my work! Chris